Discover which stylist is the best match for you!
WHOOT WHOOT
January 29th We officially opened at our TOP200 Salon location
Address:
7420 W. 120th AVE
Broomfield, CO 80020
9 miles North off 102th Ave and HWY 287
You're going to LOVE the 1920's Bungalow charm with free parking. Super proud of our team's support and GC's team to restore our property from studs into this amazing Salon in 4 months!!
Visioning summer to fall garden yoga and massage
Excited to see you and your hair!!
Gratitude and health to each and every one of YOU
DAmetris Aveda TEAM!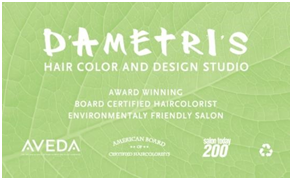 We have had a STRONG and SAFE RE-OPENING
We want to be very clear that we are taking your safety and that of our staff very seriously. There are many new safety and sanitation initiatives that we are implementing but we wanted to inform you of the most important:
Social Distancing – We are splitting our Service Providers into shifts, thereby reducing the number of people in the building by a minimum of 50%. Service Providers will be working in every other station, leaving an empty station to keep a safe distance.
Masks – All of our staff will be required to wear masks. We require that you wear a mask to your appointment and we ask that you wear one that secures behind the ears.
Touchless Greetings & Goodbyes – We will not be shaking hands or hugging at this time.
Clients will receive a fresh cape for their service.
We are incorporating extensive new and improved sanitation practices into every aspect of our operation, including the requirement of all of our Service Provider's completion of a Colorado State Board Barbicide course.
No Beverages – We will not be offering any beverages at this time.
Upon arrival – When you arrive, please check-in at the front desk where you will have your temperature scanned and complete a wellness check sheet. In the event we are at maximum capacity we may ask you to wait outside. We will text you when sanitation is complete and we are ready for you to come in for your hair service.
In addition, if you have been ill or around someone who has been ill, please reschedule your appointment.
Please limit any belongings that you bring with you perhaps to your phone and forms of payment (rather than your handbag).
Please do not bring any extra guests with you and please do not bring children to your appointment at this time. Absolutely no pets will be allowed in the salon at this time.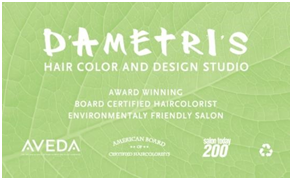 Touchless payment is available by downloading the POCKET SALON APP
Thank you so very much for your kindness and support during this difficult time in history. We look forward to seeing you in the salon soon!
-Your Friends at D'Ametris Aveda Salon
@dametrisavedasalon